Skip to content
Social Commentator, campaigner and cultural historian
Law Gazette: Hundreds of Windrush victims waiting over a year for compensation
More than 500 victims of the Windrush scandal have been waiting more than a year to have compensation claims processed, the Home Office has revealed.
In a written parliamentary answer, home secretary Priti Patel confirmed that as of 21 April 281 cases had been in progress for between 12 and 18 months, 214 for more than 18 months and five more than 24 months.
Overall, the Home Office is reported to have paid compensation in around 400 cases since the scheme was launched more than two years ago, with the average waiting time for processing a claim now standing at 14 months. There remain 1,417 cases waiting to be resolved.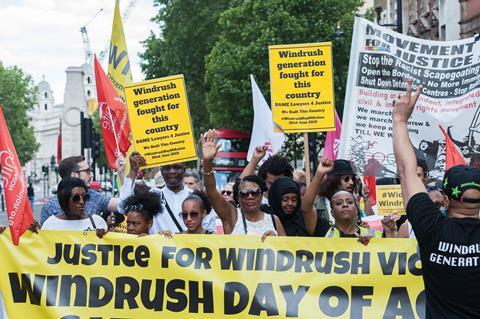 Patel said all claims will have been considered for a preliminary payment of £10,000 within six weeks of eligibility being confirmed, when the Home Office has received a minimum level of information required to show someone is entitled to compensation.
As of 25 March, the scheme had offered 362 preliminary awards, coming to £3.62m, of which 255 had been accepted and 228 had been paid.
Patel said: 'Each person's claim is deeply personal and requires careful and detailed consideration to understand their individual circumstances and experiences. There are 13 different categories of claim and some individuals' experiences are more complex than others and it is right we take the time to ensure these are considered carefully.
'We want people to receive the maximum compensation to which they are entitled and work closely with individuals, for example by contacting other government departments and third parties to help gather evidence to support their claim. This holistic approach necessarily takes time but is ultimately beneficial to individuals.'
The £200m compensation scheme was started in April 2019 by the Home Office to pay for loss of earnings, periods of detention and the impact on lives after hundreds of people who had come to the UK from the Caribbean between 1948 and 1971 were threatened with deportation.
Social commentator and Windrush campaigner Patrick Vernon said: 'We need to remove the Windrush compensation scheme from the Home Office.'